INVESTIGATING INDOOR TOXIC AND NOXIOUS ODORS
During the course of our subClinical Investigations™ the highly integrated methods for these investigations employing the sC-II™ protocol we routinely find toxins and poisons in the home and office that are significant risk factors or agents of disease of disorder (neurological & / physiological) that are totally undetected or noted by clients and patients. These include numerous neurotoxins and carcinogens within the home. In addition when coupled with and elevated presence of electromagnetic radiation (EMF) from high voltage or cellular (RF) radiation the toxins become far more poisonous increasing exposure risk. For such cases a health based investigation by one of our scientists may be warranted.
EFFECTS OF ODORLESS TOXINS IN THE HOME OR OFFICE
Do not allow the nuisance or possible ill and even nerve/sensory cell damaging effects of toxic odors to remain present in your home. Unknown to you, and what many believe to be normal concentrations of air gas components in the home are clearly a health problem. Exposure to some of these common yet unacceptable odor producing gasses can and will damage your sense of smell if not removed quickly. Ventilate immediately and call our indoor environmental expert to perform an indoor environmental assessment and investigation. Other gases may be odorless and cause a similar response. (Scientific Note: nearly all gases and odors are produced by biologicals during respiration or fermentation are fungal in origin (taxonomically- mold like).
Open windows on a summers's day will at times invite the aroma of blossoming roses, neighbor's barbecue, automobile gas emissions and others that are generally transient in nature; that is just, passing through. These types of odors are not unexpected and due to their temporal nature, not a problem.

Odor investigations are called for when the odors are unexpected, uncommon and their origins unknown, considered to be a nuisance, are persistent, and certainly when they are irritating and even worse when they become totally unbearable causing noxious or toxic type responses in humans typically resulting in sinus related headache that goes undiagnosed by the physician.

HEADACHE DUE TO NEUROVASCULAR DIALATION
THE HUMAN SENSE OF SMELL
Humans have the ability to discern over 50,000 and more different odors (Table I).

Your sense of smell is stimulated from foreign molecules coming into contact with the olfactory receptor cells. These molecules are generally gaseous and organic in nature as in the case of the respiration of bacteria or fermentation of fungi. In other cases they are a result of a gaseous chemical release or a reaction between two more chemicals.
EFFECTS OF PROLONGED EXPOSURE TO INDOOR ENVIRONMENTAL TOXINS
| | | |
| --- | --- | --- |
| | Prolonged exposure to odors from many organic gases may result in damage to the olfactory cells and your sense of smell. In other cases such exposure can aggravate asthma, trigger other respiratory reactions, cause skin irritation, result in tearing of eyes and other unexplained reactions. This can even happen when these gases are present and MAY BE ODORLESS to the individuals exposed to them. | |
INDOOR INDOOR ENVIRONMENTAL TOXIN INVESTIGASTIONS
We are often called to investigate for the presence of fungal mold and mold like odors only to later determine there is no mold at all. There are almost an unlimited amount of odors and their causes that are detectable by humans. Descriptions such as moldy, putrid decaying and related (TABLE I) are commonly the result of non mold chemical activity and interactions.
We very often see people that claim to smell an odor that others in the home do not. In nearly every case that person has a fully working olfactory system that has not been compromised or adapted from previous exposures. This is typical when that person enters a habitation for the first time and in the first few weeks. In time they too become fully adapted to the odors. This is highly dependent on the substance that is causing the odor and the levels of its presence that determine the dose - effect relationship.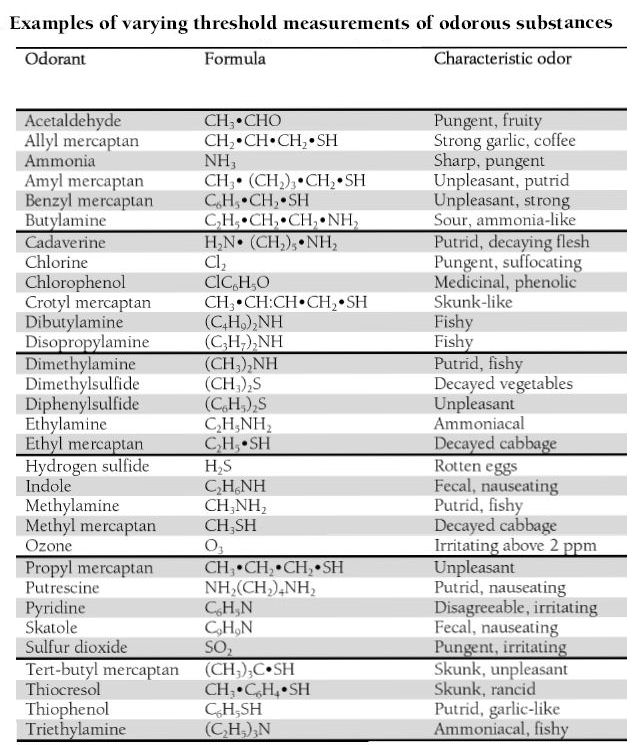 TABLE I
NOTE: Many Noxious and Toxic Gasses may be ODORLESS to You!
Indoor Environmental Sciences Institute employs a full suite of scientific protocols and related technologies to assist in identifying these odors employing the most advanced and objective means of determining the origin, cause and composition of these odors with the ultimate goal of restoring the habitable environment to normalcy.
Medical mycologist, aerobiologist and environmental toxicologist Professor J Dumanov recently appeared on the Discovery Health Channel show "Is Your House Out to Get You?" to discuss the effects of mold and their toxins on humans and their habitations. He is currently a science consultant and investigator for www.NJMoldInsection.com and the principal research scientist for the Mycological Institute FMHH and director of the subClinical Research group.
CALL FOR A FREE PHONE CONSULTATION
973-726-9559
Towns, Localities and Cities Served in New Jersey
Services also available outside our NY, NJ, PA and CT areas for legal and medical matters.
IN MORRIS COUNTY NEW JERSEY NJ - BOONTON TOWN 07005 BOONTON TWP 07005 BUTLER 07405 CHATHAM BORO 07928 CHATHAM TWP 07928 CHESTER BORO 07930 CHESTER TWP 07930 DENVILLE 07834 DOVER 07801 EAST HANOVER 07936 FLORHAM PARK 07932 HOME INSPECTOR NJ HANOVER TWP 07936 HARDING 07940 JEFFERSON 07438 KINNELON 07405 LINCOLN PARK 07035 LONG HILL 07928 MADISON 07940 MENDHAM 07945 MINE HILL 07803 MONTVILLE 07045 MORRIS PLAINS 07950 MORRIS TWP 07960 MORRISTOWN 07960 MOUNT ARLINGTON 07856 MOUNT OLIVE 07828 PARSIPPANY 07054 TROY HILLS 07054 HOME INSPECTOR NJ PEQUANNOCK 07444 RANDOLPH 07869 RIVERDALE 07457 ROCKAWAY BORO 07866 ROCKAWAY TWP 07866 ROXBURY 07876 VICTORY GARDENS BORO 07801 WASHINGTON TWP 07853 WHARTON BORO 07885
IN WARREN COUNTY NEW JERSEY - 07820 ALLAMUCHY 07823 BELVIDERE 07825 BLAIRSTOWN 07825 HARDWICK 07829 BUTTZVILLE 07831 CHANGEWATER 07832 COLUMBIA 07833 DELAWARE 07838 GREAT MEADOWS 07840 HACKETTSTOWN 07844 HOPE 07846 JOHNSONBURG 07863 OXFORD 07865 PORT MURRAY 07880 VIENNA 07882 WASHINGTON 08808 BROADWAY 08865 ALPHA 08865 PHILLIPSBURG 08886 STEWARTSVILLE
SOMERSET COUNTY WITH ZIP CODES

IN SOMERSET COUNTY NEW JERSEY NJ - BEDMINSTER 07921 BERNARDS 07920 BERNARDSVILLE 07924 BOUND BROOK 08805 BRANCHBURG 08876 BRIDGEWATER 08807 FAR HILLS 07931 FRANKLIN TWP 08873 ASHI HOME INSPECTOR NJ GREEN BROOK 08812 HILLSBOROUGH 08844 MANVILLE 08835 MILLSTONE 08849 MONTGOMERY 08844 NORTH PLAINFIELD 07060 PEAPACK/GLADSTONE BORO 07977 RARITAN 08869 ROCKY HILL 08553 SOMERVILLE 08876 SOUTH BOUND NEW JERSEY HOME INSPECTOR BROOK 08880 WARREN 07059 WATCHUNG 07069

IN SUSSEX COUNTY NEW JERSEY NJ - ANDOVER 07821 AUGUSTA 07822 BRANCHVILLE 0827 BRANCHVILLE 07826 GLASSER O7837 MONTAGUE 07827 GREENDELL 07839 HOPATCONG 07843 07848 LAFAYETTE LAYTON 07851 MIDDLEVILLE 07855 NEWTON 07860 FREDON 07860 SPARTA 07871 STANHOPE 07874 STILLWATER 07875 SWARTSWOOD 07877 TRANQUILITY 07879 WALLPACK CENTER 07881

IN BERGEN COUNTY NEW JERSEY - ALPINE 07620 BERGENFIELD 07621 BOGOTA 07603 CARLSTADT 07072 CLIFFSIDE PARK 07010 CRESSKILL 07626 DEMAREST 07627 DUMONT 07628 - EAST RUTHERFORD 07073 EDGEWATER 07020 ELMWOOD PARK 07407 ENGLEWOOD 07631 ENGLEWOOD CLIFFS 07632 FAIRLAWN 07410 FORT LEE 07024 GARFIELD 07026 GLEN ROCK 07452 HACKENSACK HASBROUCK HEIGHTS 07604 - HAWORTH 07506 LEONIA 07605 LITTLE FERRY 07643 LODI 07644 LYNDHURST 07071 MAYWOOD 07607 - MOONACHIE 07074 NEW MELFORD 07646 NORTH ARLINGTON 07031 ORADELL 07649 PALLISADES PARK 07650 PARAMUS 07652 RIDGEFIELD 07657 - RIDGEFIELD PARK 07660 RIVER EDGE 07661 ROCHELLE PARK 07662 RUTHERFORD 07070 SOUTH HACKENSACK 07606 TEANECK 07666 TENAFLY 07670 TETERBORO 07608 WALLINGTON 07057 WOOD RIDGE 07075 EVERY HOME INSPECTION WILL BE CONDUCTED BY A CERTIFIED NJ HOME MOLD INSPECTOR NEW JERSEY.

ESSEX COUNTY WITH ZIP CODES

IN ESSEX COUNTY NEW JERSEY BELLEVILLE 07109 BLOOMFIELD 07003 CALDWELL CEDAR GROVE 07009 ESSEX FELLS 07021 FAIRFIELD 07004 GLEN RIDGE 07028 IRVINGTON 07111 LIVINGSTON 07039 NJ HOME INSPECTOR MAPLEWOOD 07040 MILLBURN 07041 MONTCLAIR 07042 NORTH CALDWELL 07006 NUTLEY 07110 ORANGE 07050 ROSELAND 07068 SOUTH ORANGE 07079 VERONA 07044 WEST CALDWELL 07006 WEST ORANGE 07052 NJ HOME MOLD INSPECTOR

HUDSON COUNTY WITH ZIP CODES

IN - HUDSON COUNTY NEW JERSEY NJ - BAYONNE 07002 GUTTENBERG 07093 HARRISON 07029 HOBOKEN 07030 JERSEY CITY 07308 07306 07310 KEARNY 07032 NORTH BERGEN 07047 SECAUCUS 07094 NEW JERSEY HOME INSPECTOR

HUNTERDON COUNTY WITH ZIP CODES

IN HUNTERDON COUNTY NEW JERSEY NJ ALEXANDRIA 08848 BETHLEHEM 08802 BLOOMSBURY 08804 CALIFON 07830 CLINTON TOWN 08809 CLINTON TWP 08801 FLEMINGTON 08822 FRANKLIN TWP 08868 FRENCHTOWN 08825 GLEN GARDNER 08826 HOME INSPECTOR NEW JERSEY HAMPTON 08827 HIGH BRIDGE 08829 HOLLAND 08848 KINGWOOD 08559 LAMBERTVILLE 08530 LEBANON BORO 08833 LEBANON TWP 08826 MILFORD 08848 RARITAN TWP 08822 READINGTON 08801 08870 08889 STOCKTON 08559 TEWKSBURY 08858 HOME INSPECTOR NJ UNION TWP 08860 WEST AMWELL 08530

MIDDLESEX COUNTY WITH ZIP CODES

IN MIDDLESEX COUNTY NEW JERSEY NJ AVENEL 07001 BONHAMTOWN 08837 CARTERET 07008 CLIFFWOOD 07721 COLONIA 07067 CRANBURY 08512 DAYTON 08810 DUNELLEN 08812 EAST BRUNSWICK 08816 EDISON 08817 08837 08820 ENGLISHTOWN 07726 FORDS 08863 HELMETTA 08828 HIGHLAND PARK 08904 HOME INSPECTOR NJ HIGHTSTOWN 08520 ISELIN 08830 JAMESBURG 08831 HOME INSPECTOR NJ KEASBEY 08832 KENDALL PARK 08824 KINGSTON 08828 MATAWAN 07747 MENLO PARK 08837 METUCHEN 08840 MIDDLESEX 08846 MILLTOWN 08850 MONMOUTH JUNCTION 08852 MONROE 08831 NJ HOME INSPECTOR NEW BRUNSWICK 08901 NORTH BRUNSWICK 08902 OLD BRIDGE 08857 PARLIN 08859 PERTH AMBOY 08861 PISCATAWAY PISCATAWAYTOWN 08817 PLAINSBORO 08536 PORT READING 07064 PRINCETON 08540 SAYREVILLE 08871 08872 SEWAREN 07077 SOUTH AMBOY 08878 08879 SOUTH BRUNSWICK 08852 HOME INSPECTOR NJ SOUTH PLAINFIELD 07080 SOUTH RIVER 08882 SPOTSWOOD 08884 WOODBRIDGE 07095 NJ

MERCER COUNTY WITH ZIP CODES

IN MERCER COUNTY NEW JERSEY NJ - EAST WINDSOR 08520 EWING 08628 HAMILTON 08650 HIGHTSTOWN 08520 HOPEWELL 08525 LAWRENCE 08648 PENNINGTON 08534 PRINCETON 08542 08540 NEW JERSEY HOME INSPECTOR WASHINGTON 08691 WEST WINDSOR 08550

MONMOUTH COUNTY WITH ZIP CODES

IN MONMOUTH COUNTY NEW JERSEY NJ - ABERDEEN 07747 ALLENHURST 07711 ALLENTOWN 08501 ASBURY PARK 07712 ATLANTIC HIGHLANDS 07716 AVON-BY-THE-SEA 07717 BELMAR 07719 BRADLEY BEACH 07720 BRIELLE 08730 COLTS NECK 07720 DEAL 07723 EATONTOWN 07724 HOME INSPECTOR NJ ENGLISHTOWN 07726 FAIR HAVEN 07704 FARMINGDALE 07727 FREEHOLD BORO 07728 FREEHOLD TWP 07728 HIGHLANDS 07748 HOLMDEL 07733 HOWELL 07731 INTERLAKEN 07712 KEANSBURG 07734 KEYPORT 07735 LITTLE SILVER 07739 07701 LOCH ARBOUR VILLAGE 07712 LONG BRANCH 07740 MANASQUAN 08736 MARLBORO 07746 MATAWAN 07747 NEW JERSEY HOME INSPECTOR MIDDLETOWN 07748 MILLSTONE 07726 MONMOUTH BEACH 07750 NEPTUNE CITY 07753 NEPTUNE TWP 07753 OCEAN 07755 OCEANPORT 07757 RED BANK 07701 ROOSEVELT 08555 RUMSON 07760 SEA BRIGHT 07760 SEA GIRT 08750 SHEWSBURY BORO 07702 SHREWSBURY TWP 07702 SOUTH BELMAR 07719 SPRING LAKE 07762 SPRING LAKE HEIGHTS 07762 TINTON FALLS 07724 CERTIFIED HOME INSPECTOR NJ UNION BEACH 07735 UPPER FREEHOLD TWP 08514 WALL TWP 07719 WEST LONG BRANCH 07764


OCEAN COUNTY WITH ZIP CODES

IN UPPER OCEAN COUNTY NEW JERSEY NJ - BAY HEAD 08742 BEACHWOOD 08722 BERKELEY 08721 BRICK 08720 DOVER 08753 ISLAND HEIGHTS 08732 JACKSON 08701 LAKEHURST 08733 LAKEWOOD 08701 NJ HOME INSPECTOR LAVALLETTE 08735 MANCHESTER 08733 MANTOLOKEN 08738 PINE BEACH 08741 PLUMSTED 08533 PT. PLEASANT BORO 08742 POINT PLEASANT BEACH 08742 SEASIDE HEIGHTS 08751 SOUTH TOMS RIVER 08757

IN PASSAIC COUNTY NEW JERSEY NJ - BLOOMINGDALE 07403 CLIFTON 07001 HALEDON 07508 HAWTHORNE 07506 LITTLE FALLS 07424 NORTH HALEDON 07508 PASSIAC 07055 PATERSON 07005 ASHI HOME INSPECTOR POMPTON LAKES 07442 PROSPECT PARK 07508 RINGWOOD 07456 TOTOWA 07512 WANAQUE 07465 WAYNE 07470 WEST MILFORD 07480 WEST PATERSON 07424

IN UNION COUNTY NEW JERSEY NJ - BERKELEY HEIGHTS 07922 CLARK 07066 CRANFORD 07016 ELIZABETH 07201 FANWOOD 07023 GARWOOD 07027 HILLSIDE 07205 KENILWORTH 07033 LINDEN 07036 MOUNTAINSIDE 07092 NEW PROVIDENCE 07974 PLAINFIELD 07061 RAHWAY 07065 CERTIFIED HOME INSPECTOR NJ ROSELLE 07203 ROSELLE PARK 07204 SCOTCH PLAINS 07076 SPRINGFIELD 07081 SUMMIT 07901 UNION 07083 WESTFIELD 07090 WINFIELD 07036